Tosh, your sculpture is amazing
I'm very impressed! I thought it was a statuette you'd bought/inherited/found in a dusty loft...
It reminds me of this Roman statue: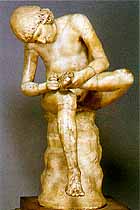 As for me... I'm ashamed to say that I don't do much creative stuff lately.
I don't have the energy. I studied Fine Arts at University in Spain, so I have lots of crappy paintings, half-decent drawings and some cool etchings stashed back home, which I have to go through some time and do a thorough clearance. I utterly sucked at sculpture though.
I still draw from time to time, mostly doodles ( <-- see my avatar). I've half-started many larger projects, comic books and paintings, that I'm quite discouraged that I'll ever finish something.