Well we finally finished the whole thing, and I've a few words to say about the ending.
Deus ex machina ending, as it were - which didn't work for me at all. Nice twists in the end though and throught all the series. Flashes of absolute brilliance, moments of doldrums.
The problem of having "God" or "gods" as an intervening character is that as soon as you introduce omnipotent beings as a cause of major events in the story, you shoot the plot full of holes. Audiences can legitimately ask questions like: "Why didn't the omnipotent beings do X?" where X is a much simpler course of events than the one depicted in the story. For example, after Kara died, why didn't the string pullers, instead of bringing her back, or sending an "angel" in her form to do their bidding, or whatever they did, just give the coordinates for Earth to someone else? Or why didn't they let her discover Earth earlier (say, right after the attack on the colonies), and save everyone four years of misery? Or why didn't they use their influence to prevent the Cylons from attacking the colonies in the first place? Once viewers start asking questions like this, the suspension of disbelief crumbles.
And the fact that the omnipotent beings were introduced from the start - at least as a belief system - makes no difference because we didn't know how powerful they were until the end. For all we knew, until the final episode, the being the Cylons were calling the "One True God" could have been a very powerful computer programme.
The question of destiny and free will also rears its ugly head.
So what did the writers do instead? "God" leaves little crumbs around, little threads that need to be tied together by human and/or cylon brain power as to the next step. Even those annoying visions. This is very unsatisying to me - it is an obvious "let the viewer have fun tying to work them out and feel fantastic when they get it right" ploy. The sort of ploy where you feel superior to the characters because you know more than they do (such as A making a facial expression which B does not see, but we do).
And as to the coda where technology is bad and we can't be trusted with it (so let's get rid of labour-saving devices, let ourselves rather than cylon-types kill millions upon millions of our descendents by forgetting about medicine, let's allow competing religions to start up and start to kill each other, etc etc). Ack.
Two things really pissed me off about the finale. Firstly, why did Head 6 keep telling Balter that he would write humanity's last chapter? It looks like all he did was abandon his harem (what purpose they served, I have NO idea), drop off Hera (who writes Bob Dylan songs and gets her groove on with primitive humankind) and go farming. In fact the realisation of the Opera House vision was a complete let down. Baltar was not needed at all for it. He didn't even have any bullets to protect Hera. Baltar and 6 just took her from a room in the Colony to CIC - something Athena and the Prez would have done without their help.
Secondly what was with all the flashbacks to back on Caprica? Fillers and nothing more. So Roslyn confirms she'll join the political campaign. Woopeedo. Baltar tells Caprica 6 he'll help her. We knew that. The only interesting bit was Baltar's father and farming.
So in summary, we are supposed to think that the One True God who doesn't like to be called God, somehow, for some reason, seeded the polytheistic religion of the 12 colonies with prophesies which would lead humanity along this path from way back when Pythia was written and the arrow of Apollo was created in such a way as to open a portal on Kobol to show the constellations of earth. Which earth? Our earth I think. I think they saw the stars in our sky didn't they? Again this only makes sense if the people on Kobol had come from our earth. But apparently they didn't. So again, the answer is, God did it. For some reason instead of converting the residents of Kobol to monotheism, God used their polytheistic religion to create prophesies and technologies, all to show humans 2000 years later how to follow a specific path.
Most unsatisfactory ending. BSG was worthy of much more.
Some interesting, almost Tolkienesque, choice of character names though:
http://en.wikipedia.org/wiki/K%C3%A1ra
_________________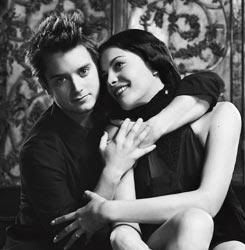 Screenshot from the upcoming ROTK: EEE. PJ, I love ya and all you've done to put us Tolkien geeks into the mainstream, but this crosses a line.