I don't know how little known she would really be, nor is she hardly local, but it was a random find through a friend who was searching and buying random downloads on an MP3 site.
Anywho, said artist would be
Azam Ali
( <---myspace page link there). I originally heard her with the group VAS which is what my friend had downloaded. Then a couple years later I stumbled across a song by the lead vocalist, Azam, on a gothic/underground compilation cd I nabbed from Hot Topic (
Asleep By Dawn's Dancing in the Dark 2006
) and decided to investigate her more.
Iranian born, now living in the US. She does the kind of warm, rich, middle eastern flavoured ethereal music. Or is simply tossed under the 'world' category. I got her second solo album,
Elysium for the Brave
, for my birthday this past year and intend to nab her first when I can. Have one complete by VAS as well titled
In the Garden of Souls
. She does work with another group as well called Niyaz which I need to look into more.
A couple of my favorites by her are there on the myspace profile....
Endless Reverie
and
Spring Arrives
.
Perfect music for sitting in a purely candle lit room, relaxing. Meditation, if you will.
:love::love:
_________________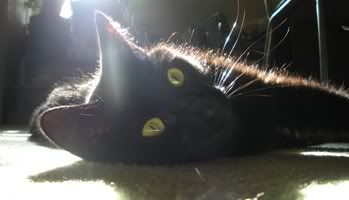 "Morning has broken and I have felt a presence that disturbs
me with the joy of elevated thoughts; a sense sublime of
something far more deeply interfused, whose dwelling is the
light of setting suns, and the round ocean and the living air,
and the blue sky, and in the mind of man; a motion and a
spirit, that impels." -Wordsworth