I won't even begin to say how devasting I find all this.
But rather than elaborate on my own emotions, I'd like to do anything to help keep this place going. I'm eligible for the Ranger Pool on December 27th, you can add my name to the list then.
Edited, because I can't spell "eligible".
_________________
Omnia Vincit Amor; Et Nos Cedamus Amori
Need a Laugh? Generate a Laugh!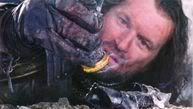 LOTR Caption Competition #24--->Sauron Gives Isildur the Finger.