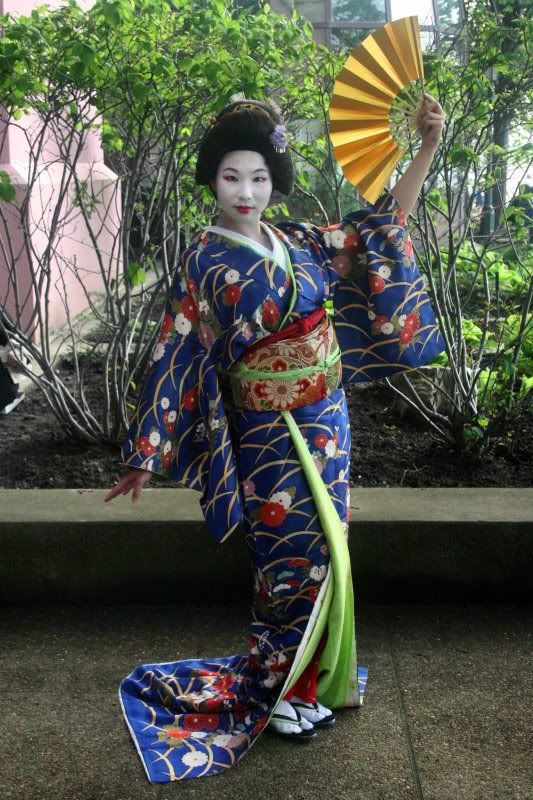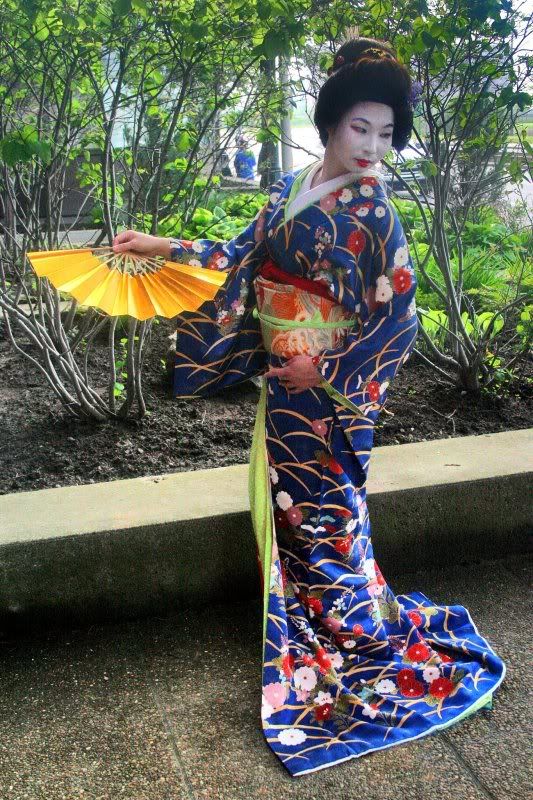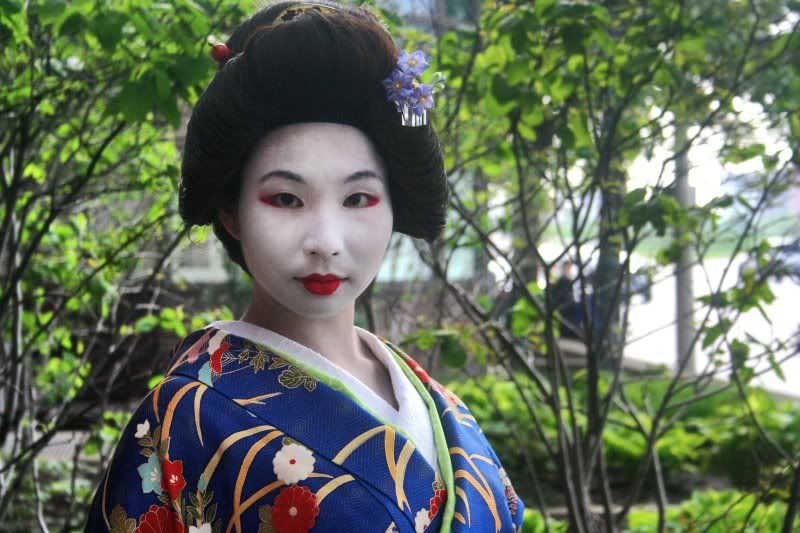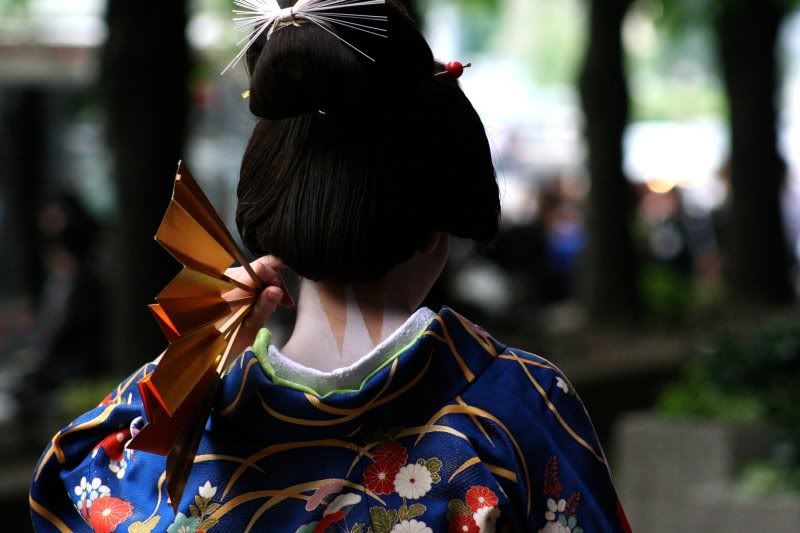 Geisha
This is a fully fledged geisha. Geisha wear much more subdued and toned down outfits, then maiko. They wear shorter sleeves and have white collars (rather then the red and white collars of maiko). As a geisha matures she will have more plain and subdued kimono. All kimono for woman must be worn showing some of the neck and back. Depending on single or married status a woman has to show more back. At some points in history, married women had to show quite a bit of the back. (They actually have these
expensive collar things
, that a person has to put on to prevent the kimono form sliding up, like mine did last year. Fortunately our coordinator made these collar stay thingies, for almost every single model.)
Geisha wear shorter sleeves as they are at the age to marry and have refused marriage. When a geisha marries she has to retire. It is strictly a single woman's occupation.
Due to the type of flowers on the kimono, this outfit is for fall. This kimono is an example of specificity of seasonality expected of kimono wearing. This kimono in particular would be "in", for at most 2 weeks in early fall due to when the flowers depicted on this kimono are in bloom. Also notice the obi has the same flowers as the kimono does. The obi and other accessories all also have to be fall appropriate.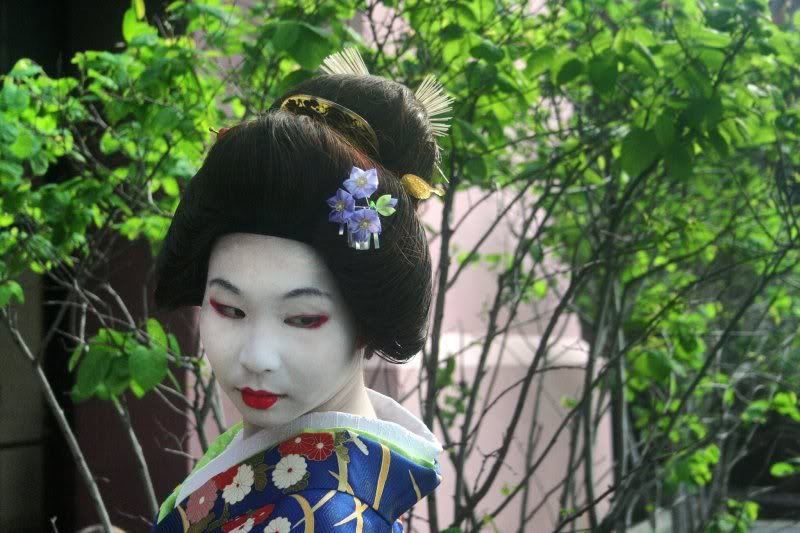 Note the hair style. All of the wigs in the kimono fashion show belonged to collectors and are carefully maintained. The hair is waxed to maintain the hairstyle specific to maiko, geisha, etc… and the ribbons in the hair usually stay in the wig. (I have seen wigs that have not been maintained. It's pretty sad.)
The hana kanzashi can be added and removed pretty easily. From what I heard from the wig wearers, the wigs were pretty heavy.
Geisha have much more subdued kanzashi and usually wear combs and sticks. (This geisha model had a tortoise shell combs that were inlaid with mother of pearl.) For the comb and stick variety of kanzashi, they usually were tortoise or ivory. (There is one kind of material for warm months and one kind for cold months). The rest of the combs that were ordered didn't arrive in time so the co-ordinator made some hana kanzashi (bell flower) to match the maiko. Geisha only occasionally wear hana kanzashi. She also has a metal stick kanzashi and a wind chime type kanzashi, called bira-kanzashi.
(The stuff ordered were antique combs from Japan, and turned out to be real tortoise shell, which can cause issues since tortoises are endangered. This caused shipping issues, since although they are antique combs, the shipping of them could show a demand for tortoise shell, which would be awful. So there are very strict rules on the shipping of genuine antique items made from endangered animals. Now, they use substitute materials and they are dyed the lightish-brown colour tortoise shell has.)
The fan is an odori (dance) fan.
I want to say here this model is a personal friend and an experienced cosplayer, so she did the appropriate geisha poses accurately.
Geisha are entertainers skilled in many forms of music and classic entertainment. (Apparently there is this awesome handstand they do as a party tricks
) Nowadays a geisha could be hired as an entertainer for a business party, or business dinner. (Business entertainment is a huge industry in Japan.)
The occupation of geisha started in the Edo period. The first geisha were actually men and they were entertainers in the pleasure quarters. The pleasure quarters were a walled off area of a city, surrounded by a moat where prostitution was legal. (In readings some readings, the authors have called them red light districts. )
Picture of the entrance to the Yoshiwara district in Tokyo
Prostitutes needed a license to practice prostitution, and customers could only stay for one night. Pleasure districts were put in place to prevent high class customers from finding too much about the court through high class prostitutes called oiran (courtesan), and keeping prostitution contained. There were many forms of entertainment to be had including the beginnings of kabuki. (Early kabuki actresses were also prostitutes (
yujo
), which is why women were banned from kabuki).
Women who were former dancing girls, started calling themselves geisha after the initial male entertainers called geisha. There are apparently a few male geisha that still exist.
Geisha were not prostitutes, they were entertainers. Geisha did not have a license to practice prostitution. (To get an idea of how disliked an unlicensed prostitute was, the name for them was
Jigoku shougo
which means hell girl, or hell woman.)
A volunteer dressed as an Edo geisha in the Tokyo festival of ages.
Geisha were allowed to travel in and out of some pleasure districts while oiran were not allowed to leave. So geisha became hip and happening trend setters and were always on the cutting edge of fashion and entertainment. Due to geisha being current, customers preferred to go to geisha and the profession of oiran died out in the 1700's.
The profession of geisha provided education, food and shelter for people who gave their girls up to the tea house. Training for geisha would mean apprenticing as a maiko (apprentice geisha), and would start in childhood at 9 or 10. (Nowadays I think the youngest is around 17 or 18. )
When western clothes started coming in, some geisha being the hip fashionistas they were expected to be, wore high fashion western clothing. Which gives an idea of how different geisha are viewed now. Another example of geisha being on the cutting edge of fashion, is that it was a geisha who invented the now most common obi knot, the drum knot (taiko musibi).
When WWII happened the profession of geisha changed; many geisha women went to work in factories, and many hadn't returned to the profession after the war, as more employment opportunities opened up for women.
When Japan was occupied many street prostitutes (
yujo
), called themselves geisha to the US military. (If one thinks about it, calling yourself some high class entertainer to one who does not know better, could get a prostitute more money.) I will state here geisha have never officially been prostitutes, even from the very beginnings of the profession, since they didn't have a license for prostitution. I will admit the lines are blurry and if a person does further reading from some names mentioned in Wikipedia, there is historical credence to coerced sex. But sex for pay was more under the table. Officially, the profession of geisha is not prostitution. Nowadays geisha has nothing to do with prostitution.
After WWII, due to the massive social change occurring in Japan, the practice of being a geisha became focused on preserving traditional arts and culture of Japan.
To the maiko, the geisha would be her senior and the maiko would call her onee –san (older sister). They had the maiko model say that any time the geisha model pass by.
This
pic
is sort of helpful in showing the difference between a maiko (background) and geisha (foreground). It also shows the basic difference of kimono wear for young and old. Younger person, bright and a bit outrageous, older much more subdued. Notice the colour, long sleeves, all over pattern and hana kanzashi on the maiko. Notice the dot crests on the geisha's shoulders. Whenever there are 2 crests on the front, there must be 3 on the back, making these 5 crested kimono, that are black which is of the highest formality. Notice also the pattern is below the waist. the older a women gets the closer the pattern creeps to the hem on formal kimono. I mentioned earlier a 90 year old lady would have a black kimono with crests, and just 2 little tress above the hem.
Geisha and maiko follow the general rules of kimono fashion very strictly. They are still fashionistas in a classical sense. If a seasonal design is on a kimono, they must wear the kimono in the season the design is set in. (The same thing goes with hana kanzashi and other kanzashi as certain materials are for certain seasons.) Because of design specificity (some outfits can only be "in" for less than a fortnight), geisha and maiko go through many outfits, and some sell their old outfits.
These rules on seasonality and age are the same for general kimono wearing (for both men and women), but nowhere near as strict. I also notice geisha rarely wear geometric patterned kimono. Geometric kimono are season neutral and can be worn any time of year. (They do wear non-patterned kimono and those are season neutral too. Older geisha, like late forties and later, usually will wear these.)
A woman or geisha wearing kimono in motif's usually for men is a very strong statement. I have seen a geisha kimono with a large dragon it. That is a very strong statement of assertiveness and independence, but quite fitting since geisha are independent entrepenuers. I have seen an older woman's kimono with a dragon on it and the sellers suspected she was either a president of a company or a crime boss wife!! (Dragon's are usually a motif for men.)
For more information about geisha
here
is a link to the wikipedia article.