DTG
-
Angels
and
Aqua Marina
are really squiggey roll things. They cut slices and stuff them into a pot. So you scoop out about a finger tip's worth of thick paste stuff and mix it with water in your hand.
If you want, I could mail you a small sample of both to try?
Areanor
- if I knew the answer to dealing with fine hair I'd be laughing!
I am currently using
Cynthia Sylvia Stout
shampoo, followed by
Veganese
conditioner on the ends of my hair and it seems to be doing the trick. Occasionally (maybe once a fortnight) I use
Rehab
shampoo for a change to strip all the crap out. And I use a pre-wash hair mask once a fortnight at least.
My trouble is fine hair that flattens easily, with greasy roots and dry ends. Plus the hair products with citrus oils make my hair freak out into dry frizz city for some reason. Then being subject to the London pollution makes it worse. There are many days when I wish I could just wear a wimple or headscarf!
I do however have two bottles of Ibiza party Shampoo in my discontinueds order, which seems to be designed exactly for my sort of hair, so we'll see. If it doesn't work, I'll be selling the bottle on!!
Eru
, my discontinued order was £74 plus p&p and that was for two of us. So I don't feel too guilty! It was big bottles of BNever (
the
best honey showergel ever) and that shampoo that lured me to do bad things. And, well, how could I say 'no' to chocolate showergel/bubble bath?
And
You Snap the Whip
smells of blackcurrant to me. It's like slathering yourself in ribena. With the added advantage of being bright blue, so you can play "Braveheart" in the shower. :mrgreen:=:)
_________________
Also found on Facebook - hunt me down via the MetaTORC group.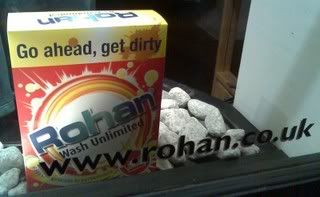 I just adore the concept of washing Dirty Horseboys!