One of the workers I befriended at one of the shops here in Glasgow had read off that discon list to me a couple of weeks ago....the only things I think I'll mildly mourn are skinny dip buttercream and mudflats which I only bought once but loved. I still get excited enough about the stuff...as far as new things I've enjoyed the Vanilla Dee-lite lotion enough thought prefer the scent of the solid perfume more....without the extra fruityness from the kiwi and such in the lotion.
I've also tried the green sugar scrub (2.50 GBP, not bad). They melt easily and need to be used on damp skin and out of the water, but I got about 6 or 7 showers out of mine being careful with it. I did find it quite nice. There's a delicious looking new face mask out....Oatfix or something like that, with oat in the name anyway, that looks quite nice but I didn't get any because I have some cupcake in the fridge and am only here for two more weeks. I'm curious as to how well Greased Lightening may work as a spot treatment, though not so curious to have gotten it....since I don't have that much trouble with my skin anymore.
For the newerish soaps I quite like Porridge Soap....not for lathering but I like the smell and it's quite moisturizing, texture reminding me a bit of figs and leaves which didn't really lather either before they changed their soap base. More soft and squidgy-like. I bought a piece of Chox Away since it smells like Honey Trap, which I love, but haven't tried it yet.
Annnd just recently I've found two new favorite things that have been around for a while but I've just never used myself.... baby face and breath of fresh air. The girl I always talk to when I go in has been giving me samples galore so she gave me bits fo a whole facial routine.
Ultra bland and baby face to decide if I liked the solid of liquid form better, Breath of Fresh Air, and Cosmetic Lad (which I learned from her was actually supposed to be 'cosmetic lab' but someone mispelled it and the name stuck....never knew that). She also gave me a pretty sieable chunk of coal face a while back but I can't use that without a moisturizer....dries out my skin.
I'll definitely be hoarding some things to take back with me though because of the price difference. Large tub of ultra bland here, 8-something pounds....witht he exchange rate the other day, came out to 13-something dollars. And it's sold for around $30 in the states.
Ocean salt's another I'll probably get too...about the same as far as price difference.
_________________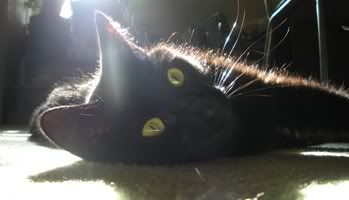 "Morning has broken and I have felt a presence that disturbs
me with the joy of elevated thoughts; a sense sublime of
something far more deeply interfused, whose dwelling is the
light of setting suns, and the round ocean and the living air,
and the blue sky, and in the mind of man; a motion and a
spirit, that impels." -Wordsworth